Beijing and Washington should work together to ease the rising protectionist sentiment in the United States, visiting Secretary of Commerce Carlos Gutierrez said yesterday.
He made the remarks after news about a delay in a Senate vote on proposed sanctions against Chinese imports linked to the value of the yuan.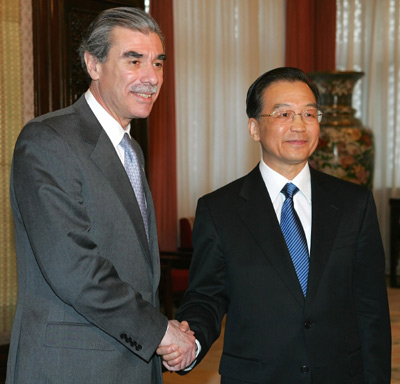 U.S. Commerce Secretary Carlos Gutierrez (L) shakes hands with Chinese Premier Wen Jiabao in Beijing March 28, 2006. Gutierrez held talks with Chinese top officials Tuesday. [Reuters]


Gutierrez, in a speech to US business people, appealed to Chinese leaders to help fight efforts to restrict trade.
"The voices in the United States calling for protectionist policies are very real. There is a real protectionist and isolationist sentiment creeping up in our country," Gutierrez said. "That is not good for trading relationships."
Gutierrez said an erosion of trade between the two countries would have a negative impact on the US economy and have even greater consequences for progress in China.
Admitting that the United States derives significant benefits from commerce with China, he quoted the latest AmCham survey as saying that about two-thirds of US companies had expanded the range of products and services they offer in China.
Protectionism is the worst thing that can happen, he said, adding that the two sides should seek to revolve disputes with candid dialogue.
Gutierrez also called on China to further open its market and promote the enforcement of intellectual property rights protection.
On Tuesday, he met Vice-Premier Wu Yi and his Chinese counterpart Bo Xilai to "ensure the two countries use the China-US Joint Commission on Commerce and Trade (JCCT) to achieve results."
This year's session of the JCCT, a top-level commercial dialogue mechanism, is scheduled for next month on the eve of talks between President Hu Jintao and his US counterpart George W. Bush in the United States.
Gutierrez's talks with Bo covered a wild range of issues from market access and intellectual property rights to the trade deficit with China, according to a statement published yesterday on the website of the Ministry of Commerce.
Bo told him that China was improving the transparency of trade policies and further opening its market according to the commitments to the World Trade Organization.
The sponsors of the US sanctions bill, Senators Lindsey Graham, a Republican, and Charles Schumer, a Democrat, said on Tuesday that they would postpone a vote on the measure until September, saying they had seen signs of currency reform during last week's trip to China.
Many US manufacturers and politicians claim the yuan is undervalued by up to 40 per cent, giving Chinese exporters an unfair trade advantage and contributing to the US' stated US$202 billion trade deficit with China last year.
The proposed sanctions measure would have slapped 27.5 per cent tariffs on Chinese exports to the United States if the yuan were not revalued.
But the US senators should drop the vote, not just postpone it, said Mei Xinyu, a trade expert with the Chinese Academy of International Trade and Economic Co-operation, a think tank of the Ministry of Commerce.
Gutierrez yesterday also met Tian Lipu, commissioner of the Intellectual Property Office, to discuss China's protection of intellectual property.
"The US is willing to offer partnership and co-operation in intellectual property protection," Gutierrez said.