U.S. Senators Charles Schumer and Lindsey Graham would be wise to postpone a vote on their bill to slap tariffs on China unless it lets the yuan rise faster, U.S. Commerce Secretary Carlos Gutierrez said on Monday.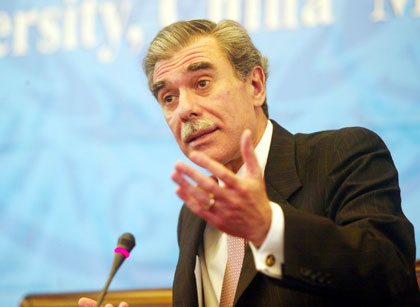 U.S. Commerce Secretary Carlos Gutierrez gestures during a speech at Chongqing University in the southwest China's municipality of Chongqing March 27, 2006. Gutierrez and his delegation will arrive in Beijing later Monday and hold talks with Chinese officials about China-US trade and other issues. [newsphoto]
The senators have not yet said whether they would press for an immediate vote on their bill, which would impose a 27.5 percent tariff on China's exports to the United States if Beijing does not act on the yuan.
The bill had been scheduled for a vote on March 31.
Gutierrez, who was summing up media reports of the two senators' fact-finding trip to China last week, told Reuters: "They're probably going to give their bill some time, which I think is the wise thing to do."
Gutierrez was in the southwestern city of Chongqing before flying to Beijing for talks on the protection of intellectual property rights and other trade issues.
China-US trade relations face a "serious setback" if the US imposes high tariffs on Chinese goods, Commerce Minister Bo Xilai warned in remarks posted on his ministry's website.
Bo delivered the message late last week while exchanging views with visiting US Senators Chuck Schumer and Lindsey Graham, the ministry said.
"China is not pursuing a big trade surplus with the United States and it is willing to increase US imports to balance trade development between the two sides," Bo was quoted as saying over the weekend.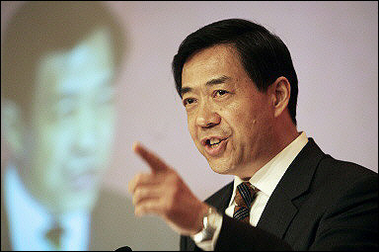 China's Commerce Minister Bo Xilai addresses delegates at the Indo-China business forum on March 16. China-US trade relations face a "serious setback" if the United States imposes high tariffs on Chinese goods, Bo warned in remarks posted on his ministry's website. [AFP]
"If the United States rashly imposes high tariffs on Chinese imports, China-US trade relations will face a serious setback."
Bo also called on the United States to lift some existing trade restrictions on China.
"China hopes the US will quickly scrap restrictions on US exports of high-technology products to China as this would bring more trade opportunities for the US," he said.
The United States restricts companies from selling some hi-tech equipment to China due to security concerns.
Diffrences emerged between US senators
The International Herald Tribune quoted Schumer as acknowledging differences between himself and Graham after their trip to China.
Schumer said he believed China did want to move on the yuan.
"I'm convinced they do want to get there, which I wasn't a week ago," Schumer told the newspaper, adding that Graham was more skeptical.
Asked whether differences had emerged between the two sponsors following the visit, Schumer said: "That would be fair."
Schumer told reporters last week the senators had told Chinese officials they would prefer not to enact the legislation but let the Chinese leadership come to an agreement with the government.
Yuan hits new high
China's yuan closed at a post-revaluation high against the dollar on Monday, after a five-day visit by two U.S. senators investigating the country's foreign exchange policy.
The yuan finished at 8.0214 to the dollar, up from Friday's close of 8.0300, after the central bank set the mid-point of the yuan's exchange rate to the dollar at 8.0245, stronger than Friday's 8.0338.
The yuan is allowed to rise or fall 0.3 percent to the dollar from its mid-point each day, but it has moved only a fraction of that range in most trading sessions since the revaluation.
It has now appreciated a further 1.1 percent since it was revalued by 2.1 percent to 8.11 per dollar on July 21, and freed from a dollar peg to float within managed bands.
But dealers said that it was still uncertain if US senators Chuck Schumer and Lindsey Graham would push for a vote on their bill, which threatens sanctions against China.
"Things are still quite uncertain but the trend is clearer that the yuan will continue to rise step by step," said a forex dealer at a European bank in Shanghai.
"Even Beijing is now acknowledging this, though it doesn't want to see the U.S. link the trade issue to the yuan too tightly."
Another factor that traders have to take into account is a planned visit by Chinese President Hu Jintao to the United States in mid-April.
"The market is concerned about comments made by the two U.S. senators during their visit to China as well as the political fact that Hu will soon visit the U.S.," said another currency dealer at a major Chinese bank in Shanghai.
"Before things get clearer, I think investors will continue to bet on a rising yuan in the near term. That's why you see the currency hitting new highs again and again recently."
The yuan slipped to 9.6559 against the euro from Friday's 9.6400 while there was no price on Japan's yen by Monday's close.