Caterpillar Inc. Chief Executive Jim Owens on Wednesday called on U.S. lawmakers to avoid tariffs on China imports and instead offer the Asian country incentives to improve trade relations.
The head of the heavy machinery maker, speaking at a manufacturing conference near Chicago, said policymakers should consider granting China "market economy" status prior to the current 2016 time frame.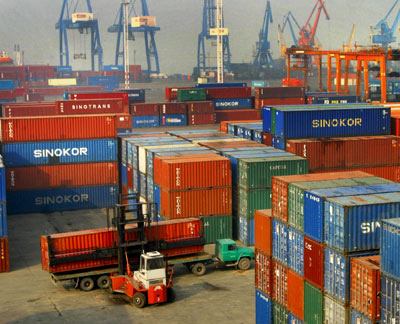 An export port in Nanjing is seen in this photo taken on January 1, 2006. [newsphoto/file]

However, he said such a move could be contingent on China making changes to the way it regulates its economy, including better enforcement of intellectual property protections, continued commitment to fair currency valuation with a meaningful revaluation for openers and greater reliance on market-based principles.
Granting "market economy" status would change how China is treated under U.S. anti-dumping rules, while more symbolically recognizing the changes the country has made to its economy over the past 30 years.
The change would require the U.S. Commerce Department to calculate anti-dumping duties imposed on Chinese products based on prices for the goods in the Chinese domestic market.
Under its current "non-market economy" status, Commerce uses prices in third countries, such as India, to calculate anti-dumping duties on Chinese goods. This is based on the idea that there are no true market prices in a government-controlled non-market economy.
Owens also said China would be more responsive to the trade concerns of the United States if China had a greater role in multilateral organizations such as the G-8, the International Energy Agency, the International Monetary Fund and the World Trade Organization.
"Personally, I can think of no faster path to a worldwide recession than for the twin engines of the global economy -- the United States and China -- to turn against one another," he said in a statement, calling on lawmakers to reduce the anti-trade rhetoric.
Owens, who is scheduled to speak at the 2006 National Manufacturing Week meeting in Rosemont, Illinois, said he is "optimistic" about the future of U.S. manufacturing. "We have our challenges, but they are no more formidable than those we've overcome in the past," he said.