China is set to overtake Japan this year as America's third-largest export market, an American trade official said Wednesday.
U.S. exports to China grew 36.5 percent in the first five months of the year over the same period in 2005, Under Secretary for International Trade Franklin L. Lavin told reporters during a visit to China's business hub of Shanghai.
"My prediction is, by the end of this year, China will be the United States' third largest export market, surpassing Japan, if this trend continues," Lavin said.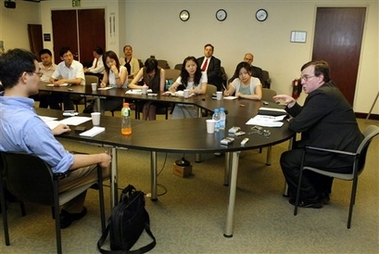 US Under Secretary for International Trade Franklin L. Lavin, right, speaks to foreign and Chinese journalists Wednesday, July 26, 2006 in Shanghai. [AP]

America's top export market is Canada, with Mexico second. China is currently in fourth place, taking in US$41 billion of U.S. exports last year, up 25 percent from 2004.
Lavin said export growth encompassed "everything from soybeans to Boeing," the U.S. aircraft maker, and that continued strong economic growth in China should sustain the trend.
"As the Chinese market improves and continues to open I think we'll see these high rates of growth," he said.
Still, China exports far more to the United States than vice versa - a perennial source of political friction between the nations.
Washington blames Chinese imports for the loss of 3 million manufacturing jobs in the U.S. and many in Congress say China competes unfairly, mainly by keeping its currency undervalued compared to the dollar.
The U.S. administration recently rejected a petition by American unions seeking an investigation into Chinese labor practices, arguing that there was evidence Chinese practices were improving.
Lavin, who is attending a series of meetings in China through next week, said he would seek progress in meetings with Chinese officials on irritants in the relationship, particularly copyright violation.
Lavin will be discussing limits to U.S. businesses and services in China, among the barriers he said that help create the damaging perception in America that China doesn't play fair. Such sentiments have undercut efforts by Chinese companies to enter the U.S. market, such as the failed attempt last year by state-controlled CNOOC Ltd. to buy Unocal Corp.
"If the Chinese market is perceived as unfair, if it's perceived as closed and we have a substantial trade deficit, these two factors together can feed an anti-Chinese sentiment in the United States, which I feel is unhealthy for both countries," Lavin said.
He also said he would argue in favor of bids by U.S. companies for chunks of Chinese firms, including a $3 billion offer by a consortium led by Citigroup Inc. for a stake in Guangdong Development Bank.